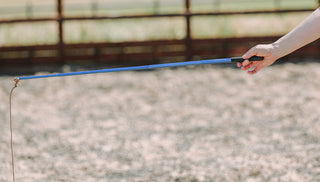 Telescoping Pocket stick whip
What will you
use it for?
A handy tool to have and a great gift idea for your horse friends
Need to teach a horse to lead up? 
Need to load a horse in the trailer 
Need to encourage a horse to go? 
Traveling and don't want a long stick? 
Want something that can discreetly fit in your grooming box?

One tool that can go from the lunge to an under saddle riding aid in no time
A Myriad of Applications
A portable lunge whip, a riding aid, a horsemanship stick - the Pocket Stick can step in conveniently to many common stable uses where an extension of your hand would be helpful
Versatile
Extends to 38", retracts to less than 10". Available with or without string.
INTUITIVE
The Pocket Stick retracts rapidly by pushing on the tip with your hand
VARIABLE LENGTH
It can be used at any length and will "lock in" anywhere along its range - this gives you great versatility to use it as everything from a riding bat to a horsemanship stick/lunge whip.