Leading - Lungeing - Travel - Cross Tying - Batheing
The patented Hybrid Headcollar is a full time replacement headcollar that your horse can wear for every life task. It makes prep and training easy without having to switch in and out of various headcollars, halters or cavesons. It is an undeniably smart solution for the modern event horse with a demanding schedule.
all photos ©Malte Christians for Hoy Team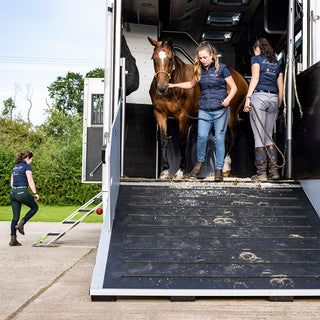 TIME EFFICIENT
Excellent for all types of training, exercise and management. Just snap and go! You will be able to control your horse's body more effectively thanks to the side-on leading angle of the in-built 180 degree sliding chin ring. The only thing that moves is the sliding ring - the headcollar itself will not twist under any conditions.
INSIDE SCOOP
How Andrew Likes to Travel His Horses
'First class travel' is a top priority for all of our horses 🥰

Whenever possible, I travel them without head collars or travel boots. By travelling them 'loose' in the lorry or trailer, they are undisturbed during long journeys and they are free to choose their own most comfortable position for travelling - also being able to get their head down, eat hay and drink water during the trip.

We have a special set up for this in our lorry as well as our trailer, so it is safe to do so. An assessement is being made for each horse individually, so we can create a personalised 'travel setting'.

From our own experience, the horses appreciate this 'personalisation' and arrive at their destination relaxed and in the best condition. - Andrew
Horse Education is "a Horse Related Small Business YOU *MUST* SHOP."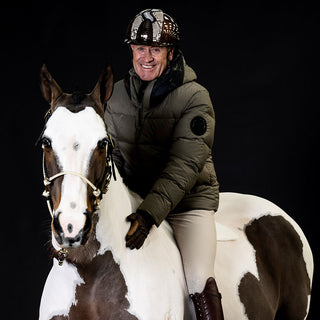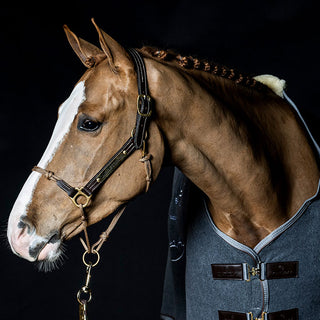 GIVe the horse a chance to be right
A rope or flat headcollar starts correcting the horse as soon as you pick up on it and unconfortably asking him to twist his head while moving and doing what's requested.
That's not very nice.
Our exclusive design gives the horse a chance to be right before any correction. The sliding ring works as a pre-signal. Your horse should respond to that alone. If he doesn't, only then do the pressure knots engage to give a very gentle reminder and enforcement. This reinforcement feels similar to pressing your first two fingers on one hand into the soft space between your fingers on the other hand.
There is no movement on the Hybrid Headcollar besides the sliding ring - the entire top part of the halter rests quietly on their face - giving them only one sensory cue to pay attention to. The flat poll helps protect from injury if he should get scared and pull back and our products are carefully designed to breakaway and be replaceable should that happen.
The Hybrid Headcollar offers more control than a control headcollar when your horse does have an emotional moment and needs support - but it is not a control headcollar. It is a full time replacement headcollar that is beautifully made and more comfortable than your horse's current headcollar. Good horses deserve to be rewarded with less annoying humans. Horses that are struggling to learn deserve to be treated with dignity and respect while they figure out how to be good citizens in our human world.
A Message from the owner
I have gotten to do many exciting things in my career in the horse industry and meet many great horsemen and women, but I don't think anything will match my joy at personally putting Vassily de Lassos' nameplate on his halter and knowing it would accompany him to the Tokyo Olympics as he carried Andrew at his eighth (!) Olympics representing Australia. I am so grateful to both Andrew and Stefanie for choosing a small company like mine to purchase headcollars from.
I absolutely love horses and would love to help dress yours. You can configure your own headcollars and nameplates here on the website, but should you require assistance I am happy to tailor your order for you personally and offer bespoke guidance on matters such as sizing and or what might look best on your nameplates. I ship worldwide to your home location, gift receiver or away show.
Warm regards,
Sara
Sara Johnson, Owner
The Horse Education Company