HEC Hybrid Halter sizing runs from foal through to draft size. The resources below will help you find the right size for YOUR horse.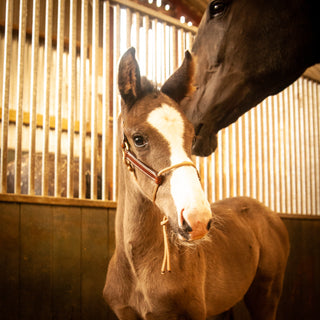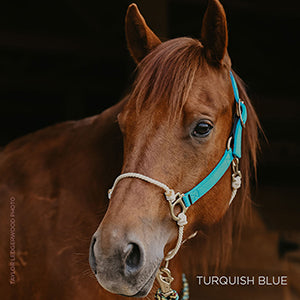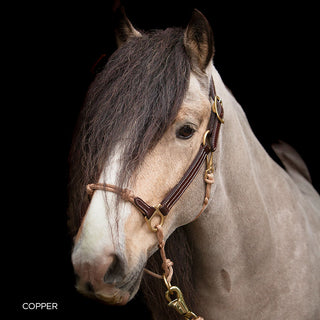 "Horses have been some of my best friends on earth since I was a little girl. It is my absolute pleasure to dress them so that they can look smart and be better understood by their humans."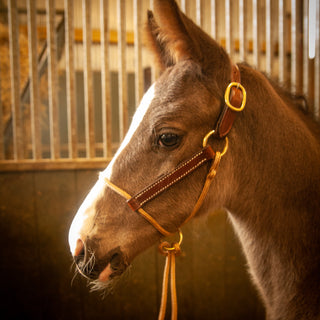 FOAL
Cobs, Warmbloods, Quarter Horses birth to weaning. Sport horses and larger breeds up to 40 days old.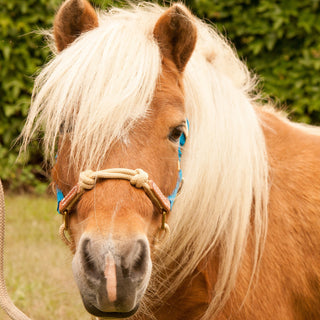 MINI
Minis, Small Shetland Ponies

Measurement (Maximum)
Nose:  under 18"
Dee to Dee: under 28"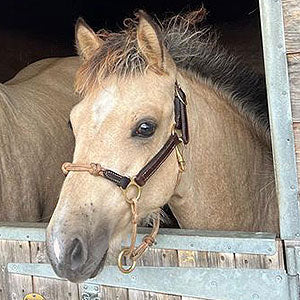 WEANLING
Larger foals approaching weaning, small ponies under 12 hands. Section A.
Measurement (Maximum)
Nose:  18- 20"
Dee to Dee: 28-34"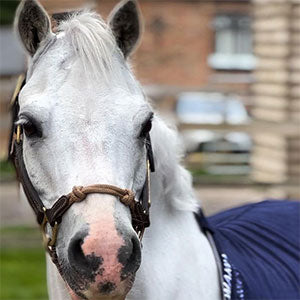 Yearling
Yearling horses and Section B ponies. 12 - 13 hands
Measurement (Maximum)
Nose:  20-21"
Dee to Dee: 34-36"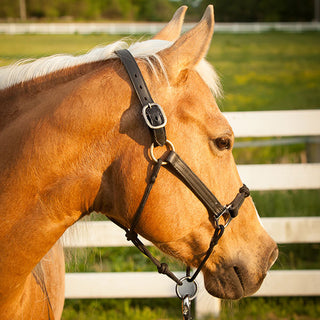 Small
Small headed adult Quarter Horses, average headed 2-year-olds, Section C and smaller Arabians. Petite headed horses.
Measurement (Maximum)
Nose:  21-22"
Dee to Dee: 36-38"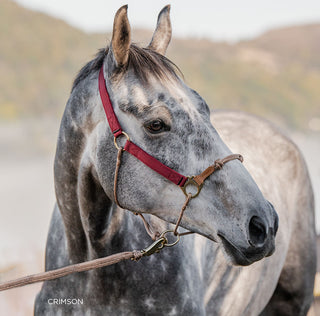 AVERAGE/Cob
Thoroughbreds, Quarter Horses, Paints and Thoroughbreds, Morgans, Mustangs, Gypsies, smaller Warmbloods. Over 14.2 but under 15.2 with average sized jowls or petite horses with larger jaws. Equivalent to a Cob size.
Measurement (Maximum)
Nose:  22-24"
Dee to Dee: 38-40"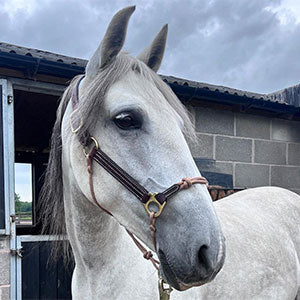 Large/Full
Horses over 15 hands that do not have particularly small refined heads. Sport Horses, Large Jowled Horses, Mules. Equivalent to a Full.
Measurement (Maximum)
Nose:  24-26"
Dee to Dee: 40-44"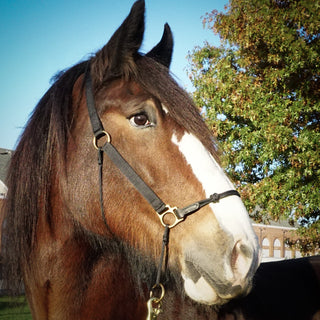 Draft
For medium drafts and most draft crosses. Over 17 hands. Will not fit large draft horses.
Measurement (Maximum)
Nose:  26-28"
Dee to Dee: 44-50"
I suggest all horses under a size small or with a large jaw be measured individually for best fit. I am happy to review photos for fit, both before and after purchase.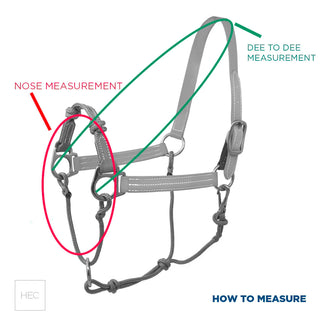 Measure up
Use a soft measuring tape or a string to take measurements of your horse if you are unsure of his size from our breed/height guidelines.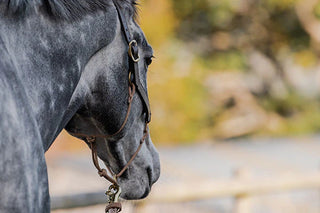 DID I get the right size?
Received your new headcollar and looking for guidance? Here it is...
BREAK-In Period
Your new halter will break in over the first week of use. The rope undercarriage will loosen approximately 10-15% under the chin. In general, if you can get the halter on and buckle it, it will finish off to be a perfect fit even if it is a little snug initially. You can hasten this process by hand tightening the nose knots as well.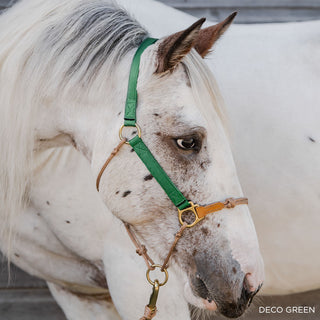 CHIN FIT
Ideal clearance under chin is at least one finger of space. If you have a good fit in the jowl and poll, but four fingers of gap, you'll also be fine. The HYBRID has a wide latitude of effectiveness based on sizing, it being looser around the nose will not have any detrimental effects.