Pocket Horsemanship Flag Collapses to Just 9 inches and Puts Training Convenience in Your Back Pocket
Pocket Horsemanship Flag Collapses to Just 9 inches and Puts Training Convenience in Your Back Pocket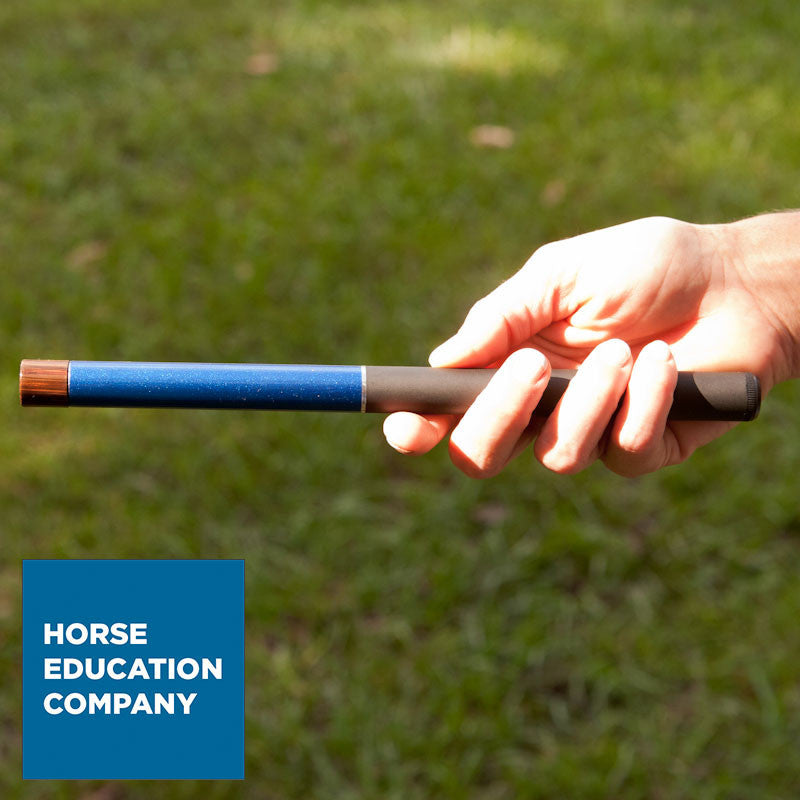 Ocala, Florida – Have you ever wished you could whip a flag or stick out of your back pocket, go-go gadget style when you most needed it, without lugging around a full size version? The Retractable Pocket Horsemanship Flag, by The Horse Education Company makes just such movie magic possible.
The collapsible reimagining of the classic horsemanship flag is a 4' fiberglass telescoping stick which collapses down to just 9 inches long. It comes complete with a white flag which is easily visible to the horse.
The Pocket Flag also doubles as a light riding stick that fits in your pocket. Just remove the flag and you've got a telescoping stick that weighs just 1.8 ounces, perfect as an aid while riding. Whether you're looking to put the functionality and convenience of a horsemanship flag in your back pocket, in your carry-on luggage, in your tack box or in your trail bags, the Retractable Pocket Flag has you covered. Priced at $29.99, it is a popular holiday gift choice for any horse lover on your Christmas list.
"The horsemanship flag has long been a stock and trade tool of master natural horsemen who have studied the techniques of such legends as Bill Dorrance and Ray Hunt. Horsemanship flags are a versatile tool thanks to the broad effect they have on the horse's personal space, but generally made of stiff wire and not at all portable. We're excited to have found a way to keep the tradition of this classic tool alive, while giving it the portability and convenience that modern at-home owner/trainers are looking for," says Horse Education Company President, Sara Johnson.
For more or to buy the Pocket Horsemanship Flag visit www.horseeducation.com or call The Horse Education Company at 630-608-0804.
About The Horse Education Company
Founded in 2013, The Horse Education Company brings innovative, professional grade tools, educational products and gear into the hands of at-home trainers of all disciplines in the US, UK and Australia.  Their "better mousetrap" designs focus on keeping the equine athlete and at-home trainer happy, healthy and wise. The company's patented HYBRID Halter® gives the control of a stud chain with a horse friendly design that avid sport trainers and natural horsemen alike can agree upon, while the company's line of lightweight ground and ergonomic training tools make it easier to get refined training results with less stress on the horse owner's mind, time and body. Partnering with leading trainers, competitors and clinicians the company offers the at-home trainer a curated selection of educational titles that allow them to maintain their horse's mind and body with out-of-the-box challenges that keep the training relationship between horse and rider fresh, willing and consistently expanding.