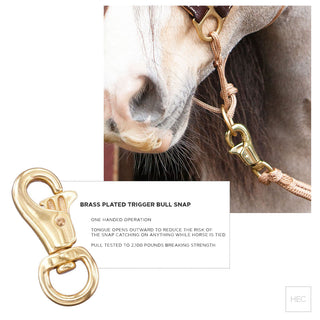 One handed
Our strong lead rope snaps feature a outward opening tongue snap design that is easy to pull down with one hand - with or without gloves on.
They are pull tested to 2,100 pounds breaking strength.
Not Just a Pretty Face
Our yachting braid rope is the result of 25 years of experience in rope and fibers for horse training. This cordage is spun to our proprietary specifications for stretch, breaking strength and abrasion resistance.
CARRIES a VIBE
The "energy" conducting properties of our yachting braid rope makes training easier by carrying the movement of a cue down the rope and to the horse. Floppy lunge lines, cotton or poly ropes are limp and lifeless, with no ability to carry important training cues.
SUSTAINABLE
Lead rope snaps can be replaced or swapped as desired, thanks to our loop end design.
This gives you flexibility and repairability in case a snap should wear out or you have a training application where no snap is a better choice.
SMART DESIGN
Our ropes feature a blunt end, with no popper for the horse to chew while tied.